SpinRewriter – Recommended Spinner Service to Use with AASM
SpinRewriter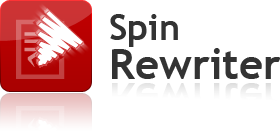 As you might already know, Advanced Article Spinner Manager features four of the best online spinner services. As we developed it, it appears rapidly obvious that SpinRewriter is the tool you need to use with AASM.
Don't get me wrong, it doesn't mean that the other services are bad, or even inferior to SpinRewriter. It simply means that SpinRewriter is the one who work best with AASM. SpinRewriter offer a great amount of control to create high quality spun articles rapidly.
They just realized the 4.0 version, which offer even more control over your articles. You can spin your articles directly into SpinRewriter admin online, or even better use AASM to render completely formatted article included pictures and videos as well as shortened URLs within few clicks.
They have three different offers for you to choose from:
monthly fee: $37
yearly fee: $77
lifetime fee: $497
Each offer is delivered with a 5 day free trial. There is a 30 days money back guarantee no question asked. This is a risk-free offer, giving you plenty of time to test it out before opting for the membership you need.